Let's get your financial affairs in order.
Living Expenses Calculator
Is your salary covering the way you live? Have you done the real numbers to see if what you make doesn't leave you in debt every year, and your not just living off cashflow?
Our FREE Living Expense Calculator will be able to outline for you in detail, where your money goes, how much you have left in savings, where to eliminate expenses you don't need and much more. Subscribe FREE today
Business Expenses Calculator
Do you know what your business's true costs are to operate per hour, per day, per week, per month, per year, are? So many business operators think they are making money until they punch in the numbers to our calculator and realise they have been running at a loss this whole time.
Some business owners punch in the numbers and realise they are making amazing profits, but where has the money gone? With our specially designed calculator you can see exactly where your business funds are and what they are getting spent on. You have the option to turn off areas to see where money can be saved and turn them back on to show you a quick snapshot of potential your business really has.
Either way if you're running a business and not calculating your cost of doing business and staying on top of all your overheads, your playing with fire & in business you can get burnt real quick.
Subscribe and get started – if you need assistance with getting it done right, reach out to us and we can have one of our professional financial advisors assist you with it all.
Why use Industry Calculators?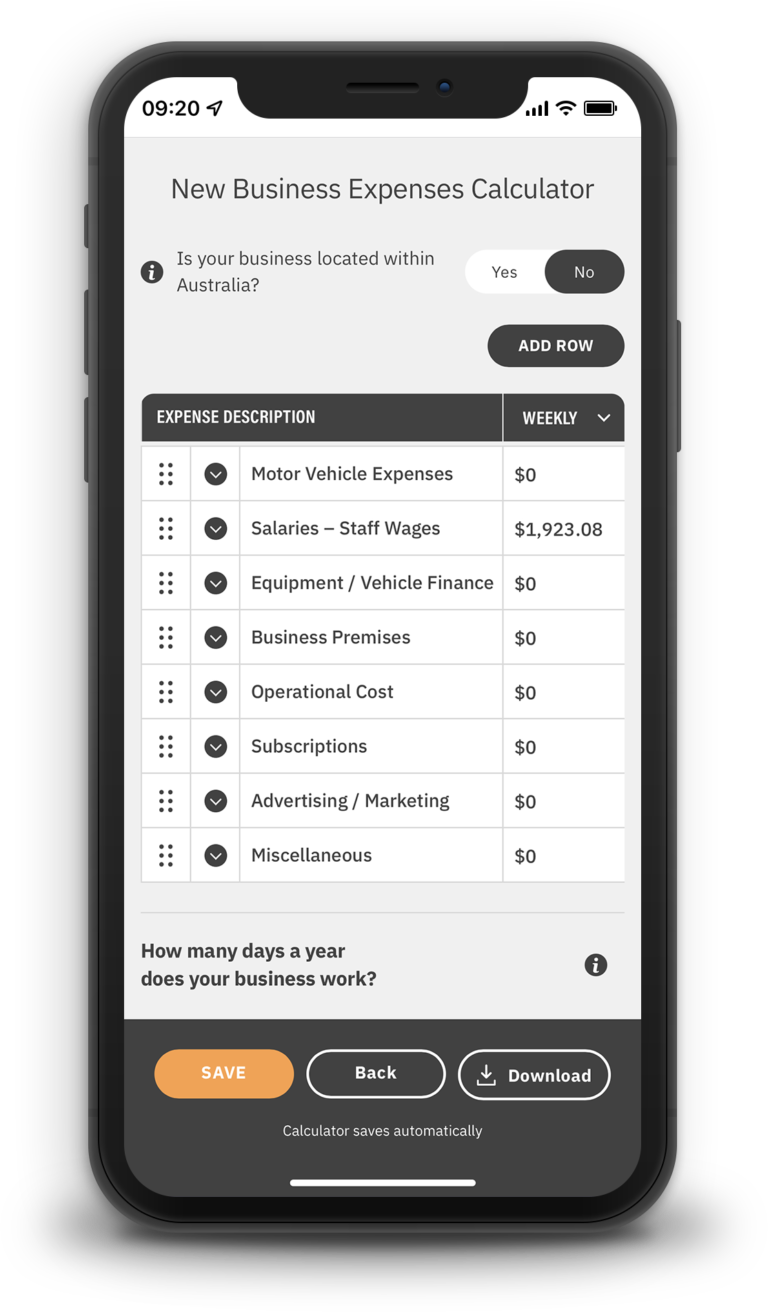 Your time is valuable
The average person will spend 90,000 hours at work in a lifetime, the average business owner spends double that. Imagine finding after all this time you were getting way less than your worth?
Build wealth
Building future wealth is important for you and your family. This can only be done when you are disciplined with your finances. Subscribe to get your financial affairs in order and start building future wealth.
Any industry
Industry Calculators is built for all industries,
Trades, Accounting, Construction, Beauty, Hospitality, Agriculture
Project management, Civil, Coaching, Agencies, Wholesale and much more
Customisable to suit your operations
Add and remove Lines
Cost Categories & Sub-Categories
Salaries with Superannuation
Start-ups to Enterprises
Have a Start Up or SME? Do you know what it's costing you to run? Are you making enough to keep afloat? Do you have expenses that you could part with and take a higher profit? Is your business leaking cashflow?
Over 10,000 businesses go into administration per year. with more than 75% showing its due to insolvency. The reason? Most businesses are providing a service that in return, isn't even enough to cover the cost of doing business.
Safe and secure
Safety – Only using the most up to date safety practices to keep your data safe.
Security – Industry leading approaches to securing the personal data entrusted to us.
Multiple Business
Do you have multiple businesses? You can use the same account to create as many calculators required for the various businesses you may have, with the ease of one log in.
Living Expenses Calculator
Pre-populated, easy to edit template of expenses
Create your own profile
Ability to create multiple cost of living calculators
Save & download your spread sheets, return and amend whenever
Full access to Recourses
Access to the Industry Calculator's Private Facebook Group
Monthly tips on how to keep your cost of living down and how to save money
Business Expenses Calculator Plus
$45

Monthly per user

$400

Yearly per user

Saves 25%
Everything from FREE version
Access to Business Calculator designed by business professionals
Access to a full template of expenses categories designed for all businesses
Create 10 individual Business Calculators
Access to the Industry Calculator's Private Facebook Group
Access to our accountants to assist in Business Finances with 35% off all services